1972 GEORGE of the Jungle WATCH 17 Jewel Character Jay Ward BULLWINKLE Windup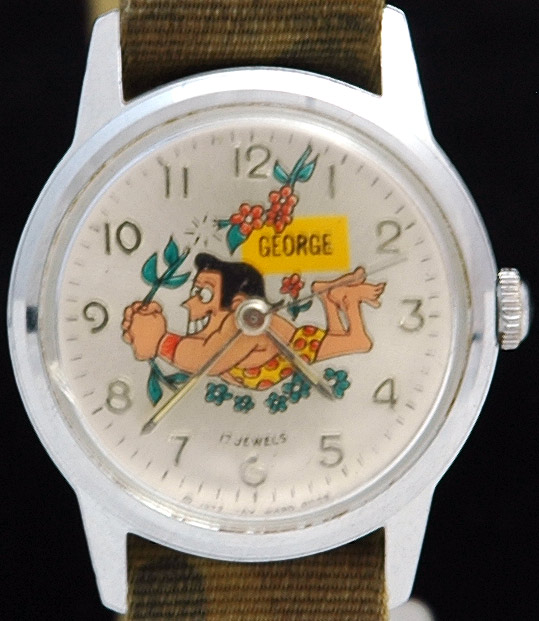 George from George of the Jungle by Jay Ward Productions in 1972 – 17 Jewels by Standard Time Corp (Hamilton/Buren).

It winds, sets, works and keeps very good time. The overall condtion of the watch is in very good shape. Crystal is in very good condition, noticed a inclusion on the side near the 8 hour marker. Dial is in very good condition. Case is in very good condition with normal wear. The back is in very good condition. Band is fabric with camo print and is in good condition, has some wear.
Dial is marked GEORGE 17 JEWELS 1972 JAY WARD PROD.
Back is marked on the inside WATER PROTECTED RESISTANT TO SHOCK DUST AND MAGNETIC BASE METAL BEZEL STAINLESS STEEL BACK
Movement is marked SEVENTEEN 17 JEWELS STANDARD TIME CORP
Case measures 35MM wide including the crown; 41MM in length. Watch and band measures 9 inches.
We sold this at
Art of Tick Tock Store on eBay