CORDURA Sea Gull AUTO DIVER Breitling Submariner 24HR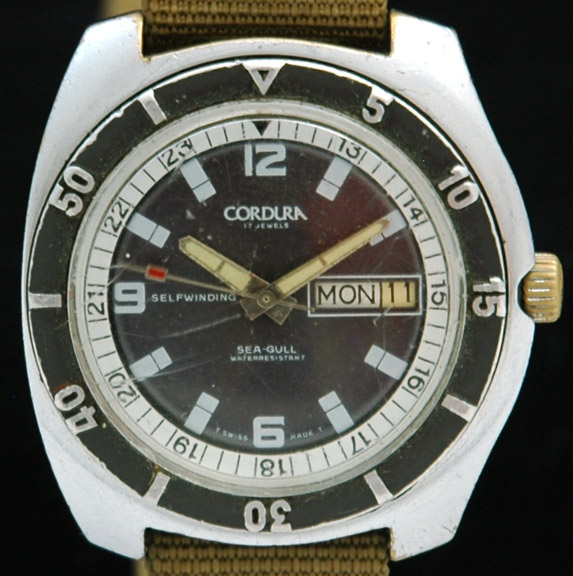 Movement made by BREITLING / SICURA in the late 60s early 70s.
Features selfwinding automatic movement, it keeps accurate time and sets properly. Outer bezel is the dive bezel and rotates in any direction. Inner bezel is a 24 hour bezel that is fixed. Glowing hour and minute hands, sweeping second hand with easy to read red marker at tip. Day Date at the 3 hour, to set the day you have to be passed the 12 hour then backwards past the 9 hour, then forward again to the 12 hour (repeat till you get the required day); to set the date you have to change the time backwards and it will jump after ever 30 minutes.
The overall cosmetic condtion of the watch is in good/fair shape. Crystal is in fair condition, it has scratches. Case is in good condition, it does have a couple spots of plating wear. Crown has plating wear. Back cover is in great condition. It comes with a Maratac nylon military band marked Maratac on the inside buckle in great condition.
Dial is marked CORDURA 17 JEWELS SEA GULL WATER RESISTANT SELFWINDING T SWISS MADE T
Back is marked WATER RESISTANT SWISS MADE STAINLESS STEEL BACK BASE METAL BEZEL
Watch case measures 44MM wide including the crown, 47MM in length. Watch and band measures 10.5 inches
We sold this at:
Art of Tick Tock Store on eBay